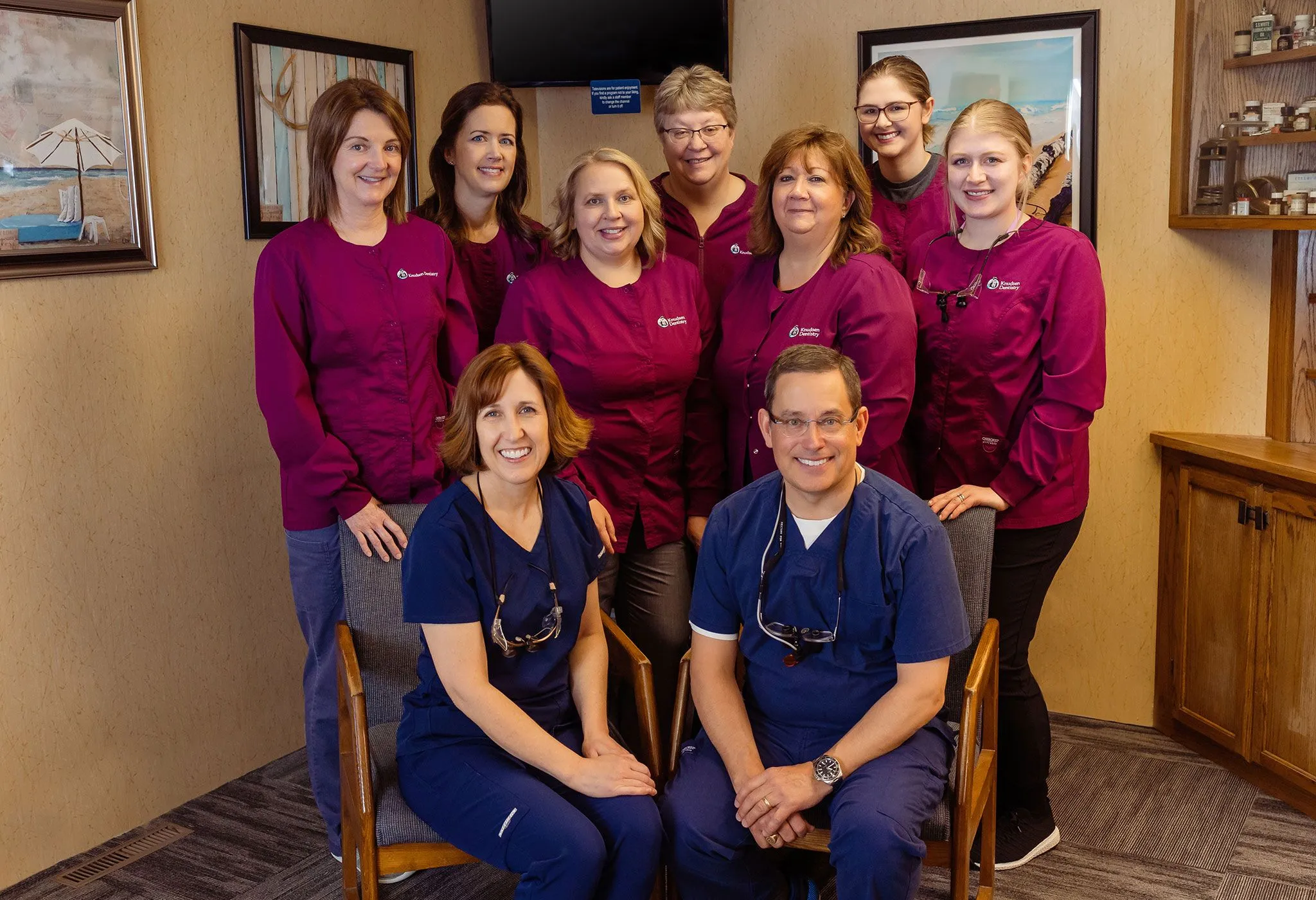 Our Mission
We're a team of well-trained professionals dedicated to delivering the highest-quality dental care in a warm and friendly environment. By establishing trusting and respectful relationships, we enthusiastically educate our patients for a lifetime of dental health. Call to schedule an appointment!
Dr.

DDS

Dr. Eric Knudsen was born and raised in Escanaba, his father (William F. Knudsen, DDS) started this dental practice in 1968, and his mother (Sandra) is a retired Escanaba kindergarten teacher. Dr. Eric graduated from Escanaba Area Public High School in 1987, and then graduated from the University of Michigan, in 1991, with a Bachelor of Science (B.S.) degree (concentration in Cellular and Molecular Biology). In 1995, he then received his Doctorate of Dental Surgery (D.D.S.) from the Univ. of Mich. School of Dentistry, and at graduation was awarded the Louis Schultz Award for Operative Dentistry, the Academy of Oral and Maxillofacial Radiology Award, and membership in the Omicron Kappa Upsilon Honorary dental fraternity. While in dental school, he was active in the Jonathan Taft Dental Society and Delta Sigma Delta dental fraternity (serving as president his senior year).

After dental school, Dr. Eric did a General Practice Residency in Dentistry (G.P.R.) at the Veterans Administration Hospital in Ann Arbor, MI from July 1995 through June 1996. While at the VA, he got advanced training in operative rehabilitation, oral surgery, implant dentistry, IV conscious sedation/anesthesia, oral medicine, and hospital dentistry.

In July 1996, he and his wife (Dr. Elizabeth Knudsen) joined his father's practice in Escanaba, and together they formed Knudsen Dentistry, PLC. Dr. William Knudsen retired in December 2006, after over 38 years in private practice.

Dr. Knudsen's current professional memberships include: American Dental Association, Michigan Dental Association, Cloverland District Dental Society (current president), Academy of General Dentistry, American Orthodontic Society, Delta County Dental Society, and the Omicron Kappa Upsilon honorary dental fraternity. He is a Fellow in the Pierre Fauchard Academy, which is an international honorary dental service organization. He is also a Fellow in the International College of Dentists, which is by invitation only, and is granted in recognition of an individual dentist's outstanding professional achievement, meritorious service and dedication to the continued progress of dentistry for the benefit of humankind.

He is very active at the state level with the Michigan Dental Association and currently serves as President, elected by the MDA House of Delegates. On the national level, he has served as a delegate for Michigan at the ADA House of Delegates since 2017.

His community activities include serving on the Escanaba Area Public Schools Board of Education from July 2001 through June 2009 holding positions of president, vice president, treasurer, secretary and trustee. He is a current member of the Escanaba Country Club (previously serving on the ECC board), and Escanaba Elks Lodge #354. Current hobbies include golf, hunting, fishing, U of M athletics (Go Blue!)--holding season football tickets since 1987, spending time with our family at our cottage on Sixteen Mile lake, and learning about new technologies and research in dentistry. Eric and Beth have two children, Matt, currently a dental student at the University of Michigan, and Abigail, of Lakewood, CO, as well as Maizey, their yellow Labrador retriever.

Dr.

Dr. Elizabeth Knudsen was born and raised in the Flint area. She graduated from Carman-Ainsworth High School and continued her education at the University of Michigan, where she earned a bachelor of science in biology. Dr. Knudsen received her doctor of dental surgery degree in 1996 from the University of Michigan. Upon graduation, Beth was awarded membership in Omicron Kappa Upsilon Honorary Dental Society and received the American Society of Dentistry for Children Merit Award. She has many professional memberships including the American Dental Association, Michigan Dental Association, Academy of General Dentistry, and Delta County Dental Society. She currently serves as delegate from the U.P. to the Michigan Dental Association and recently attended the annual meeting of the American Dental Association, representing the Ninth District, and is a member of the MDA Foundation Board of Directors. She was recently inducted into the Pierre Fauchard Academy, in recognition of service to the profession of dentistry.

 Beth came to the Upper Peninsula in 1996 to join her husband, Eric and his father, William in dental practice. At that time, she also worked at the Northern Menominee Health Clinic for two years. She enjoys family practice and all aspects of dentistry, especially seeing young patients.

On a personal note, Beth has two children, Matt and Abby, and a yellow Labrador Retriever named Maizey. She is a member of the local chapter of PEO, a philanthropic organization devoted to education for women, where she has served as President, VP, Secretary, and Chaplain. Beth is an American Heart Association certified CPR instructor. Her hobbies include traveling, outdoor activities, reading, and spending time with her family.
---
Hygienist

Angie was born in lower Michigan and moved to Gladstone in 1977. She attended Ferris State University and graduated from the Dental Hygiene School in 1990, and has over 30 years experience as a Dental Hygienist. Angie and her husband, Darin, have two children — Jared is living in Montana and Taylor is attending Northern Michigan University.

Hygienist

Abbey was raised in the Escanaba/Gladstone area, and graduated from Escanaba High School in 2014. She attended Bay College before transferring to Ferris State University. She graduated from Ferris with a Bachelor of Science Allied Health and Dental Hygiene degree. Abbey joined our team in the Summer of 2020. In her free time she enjoys spending time with her family and dog, Ruby. Her hobbies include snowmobiling, being on the lake, and golfing at the Escanaba Country Club. 

Hygienist

Welcome the newest member of our staff!  Emily joined us in the fall of 2021 after completing a Bachelor of Science in Allied Health and Dental Hygiene degree at Ferris State University .  She grew up in Escanaba and graduated from EHS in 2016.  In her free time, Emily helps coach a local softball team and enjoys playing basketball and spending time with her family and labrador retriever, Gordie.

Office and Financial Coordinator

Donna started with Dr. William Knudsen in 1987. She is a graduate of Gladstone Area High School and Bryman School for Dental Assisting in Houston, Texas. She has extensive dental experience both chairside and with the front office. Dr. Eric and Dr. Beth are always keeping the office up-to-date with the newest technology and provide continuing education to all the staff, which Donna feels make the practice a great place to work. She will be happy to answer any questions you have regarding your treatment, as well as find ways to use your insurance to the fullest, and assist you with various financial resources to help you complete your treatment. Donna truly enjoys the dental field, and her goal is to work with the doctors and staff to help patients achieve healthy, amazing smiles.

Scheduling Coordinator

Jeanne joined our staff in August of 2021 as scheduling coordinator!  As scheduling coordinator, it is her responsibility to greet patients as they enter and leave the office, schedule appointments, and keep the days running smoothly.  Jeanne comes to Knudsen Dentistry from the medical field where she has held positions in scheduling, billing, and office management. She finds the change enjoyable and has learned more about teeth than she ever imagined!

Jeanne resides in Gladstone with her husband, Gaylord, and little chihuahua, Ruffles.  In her free time, she enjoys camping, hunting, fishing and the great outdoors as well as spending time with her family. 

Assistant

Holly has been employed at our office since 2005. She works not only as a Dental Assistant, but as a front office coordinator. Holly attended Northern Michigan University and received her dental assisting certificate through Bay de Noc Community College. She enjoys taking continuing education courses and has completed training for designing and producing same-day crowns in the office. Holly currently resides in Gladstone with her husband, David. She has three children, Hannah and Tyler, and step-daughter Kristina.

Assistant

Pam was raised in Rhinelander, Wisconsin and moved to Gladstone in 1997. She attended NWTC in Green Bay, where she earned her dental assisting certificate. She has been part of our team since 2012. Pam enjoys spending time with her husband and their three children.

Administrative Assistant

Haile was raised in the area and graduated from Escanaba High School in 2016. She attended Michigan State University and completed a Bachelors of Science in Physiology. Go green! Haile enjoys getting to work in every part of the office whether it be assisting or talking about insurance. In her free time she loves to be outdoors hiking, gardening and taking pictures or spending time with her two cats Remy and Micah.